THE BOROUGH OF LINCOLN POLICE DEPARTMENT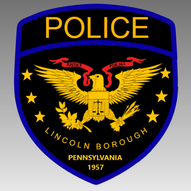 45 Abe's Way, Elizabeth, PA 15037
Emergency 911 NON Emergency 412-751-7155
​
​
"Our job is to provide a safe haven, secure the peace and provide justice for ALL that we serve"
Chief Richard M. Bosco
---
Police Department Information
The Lincoln Borough Police Department was created in 1957 and is a full service agency that provides its citizens with more than just a secured neighborhood and crime prevention. The Police Department takes an active role in our community by providing services beyond criminal investigations. Our Communities Safety is also a concern for our officers. The Police Department is active in our Community at large and offers several services and programs for our residents. Services that the Police Department will provide are Crime Prevention, School Bus Safety Patrols, Vacation checkups, Child and Infant Seat checks and proper installation as well as bicycle safety inspections and much more. The Department is open from 8:00 AM to 4:00 PM Monday through Friday for regular business. We are here always via 911. Your protection and quality of life is our dedication.
SOLICITATION
Anyone wishing to solicit in the Borough of Lincoln must get a permit from the Administration Office or the Police Department.

If anyone comes to your door attempting to sell anything, he or she should have a permit clearly visible. If no permit is seen, call 9-1-1 so the police can check it out. Do not allow solicitors to enter your home. Soliciting within the Borough is permitted by PERMIT ONLY.
​
All employees from utility and delivery companies will carry identification !
​
If there is any doubt in your mind as to the validity of the employees, please call 911 immediately and request an officer to verify the identity of these individuals!

What you can do to protect your home and family from today's criminals
Always lock the doors of your house, even when you are home. If your door does not have a window to see who is knocking, install a peephole, to see who is there before opening your door. If you do not know who is knocking, do not open the door to them, but speak to them through the door without unlocking it. Ask for proper identification from delivery persons or strangers. Don't let strangers in to use your phone.

If you arrive at home and suspect a stranger may in inside, DON'T GO IN! Leave quietly and quickly and call 911 immediately!
​
Keep a list of serial number of all of your valuables, in the event of a robbery or an insurance claim. Take photographs of valuables for your records as well and if possible, mark them with your name or some sort of identifying mark. Valuable jewelry is best photographed on a plain black background with a ruler next to the item.​

​Lock your automobile no matter where you park, even in your own driveway. Don't leave valuables, such as cell phones, iPods, wallets or cash in your car. If you must leave valuables in your car for some reason, make sure to place them in the trunk or under a seat where they cannot be seen through the windows.




---
---

TRAVEL
When you travel away from home, inform our police department and a neighbors of the dates you will leaving and returning and provide a number where you can be reached in case of an emergency. Stop the delivery of your mail and newspapers and have your neighbor place your garbage cans at the curb on pickup day. Please check that all of your doors and windows are locked.
Register your vacation information with the Lincoln Borough's Police Departments Vacation Check service . ​